Skazka Canyon, often called to as Fairy Tale Canyon, is located on the Issyk Kul lake's southern side in Kyrgyzstan. Skazka, which in Russian translates directly as "fairy tale," does, in fact, live up to its name. This stunning desert-like landscape, which was created by thousands of years of ice, water, and wind erosion, features a variety of sculptures and rock formations, including red columns that soar out of the ground and into the sky. It is a true fairy tale.
When contrasted to the rest of Kyrgyzstan, this is even more evident. In complete contradiction to the barren, stony landscape of Skazka Canyon, the area is rich with lush meadows, snow-capped peaks, and alpine lakes. One of the best sights to visit in the Issyk Kul area is without a doubt Skazka Canyon, which appears to be in a world of its own.
The legend about Skazka Canion
According to legend, Issyk Kul previously hosted a number of wealthy and potent cities. To be honest, given that archaeologists found signs of many settlements beneath the lake, there is certainly some truth to this.
Yet, the legend had it that one of these cities was home to a beautiful woman. A dragon fell in love with her because she was so stunning, and when she rejected him, he cursed the valley in fury. Until the woman changed her mind and decided to marry the dragon, the Issyk Kul valley would flood on every full moon.
To prevent the valley from overflowing, the locals took turns covering the wells with golden lids. This worked until the woman herself failed to cover the wells one day, causing Issyk Kul to flood and become the lake it is today. The dragon supposedly became so frightened upon seeing the lake that he transformed into rock, and this rock is what makes up the canyon.
It seems like a very strange story, but the rock formations really resemble those in fairy tales, so it's possible that this is how the canyon received its name.
How can you get to Skazka Canyon?
From Karakol city – You must travel to this bus stop and take a bus (marshrutka) to the villages of Bokonbaevo or Kajisay. Tell the driver to drop you off in the "Skazka" canyon. You will so come to a stop before those villages.
From Bishkek city – You must go to the "Zapadniy vokzal" bus station and take a bus (marshrutka) or taxi to the South Issyk-Kul Lake (Yuzhnyi Bereg) to the following locations: Baarskon, Tosor, Kyzyl-Suu, or Karakol. Tell the driver to drop you off in the "Skazka" canyon. So you'll halt in front of those locations. Just make sure the driver remembers where you're going.
Somewhere in Issyk-Kul region – You can try hitchhiking. It is possible but you need time.
Travel company – You can order car through us, we can halp you. Contact us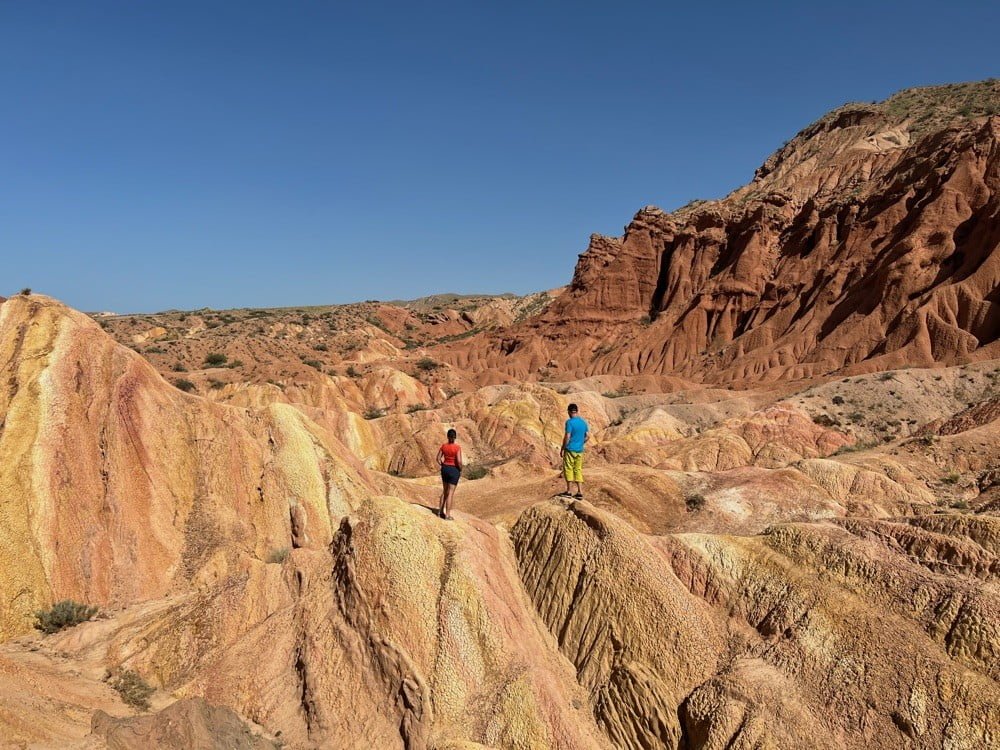 When can you visit Skazka Canyon?
The Skazka Canyon is available all year around. In winter there rarely is any snow, but it will be cold so bring warm clothes. Bring sunblock and a hat in the summer because it can become extremely hot and there isn't much shade. You can anticipate any of the aforementioned conditions in the spring and fall because of how unpredictable the weather might be. Even while the colors become even more beautiful when it rains, the landscape can still be dangerously slick. Bring comfortable shoes with you.
Where to sleep in Skazka Canyon
The Skazka Canyon does not have accommodations for overnight stays, although it is a great day trip from Karakol (1.5 hours), Bokonbaevo (30 minutes), or Tosor (10 minutes). They all offer first-rate accommodation options. You can find some options below.
Tosor
Tosor is only 4 kilometers from the canyon. There are some homestays that do not have an online presence yet. My personal recommendation is the Tosor Yurt camp. Where else in the world can you sleep in a yurt at the beach?
Bokonbaevo
Bokonbaevo is home to a number of friendly homestays such as Guesthouse Emily, Nurgul and Guesthouse Ayim
Karakol
The largest selection of lodging is available in Karakol, including guesthouses, homestays, and backpacker hostels. For example:  Guesthouse Altay, Center hostel etc.
In conclusion, Skazka Canyon is a must-visit destination for anyone traveling to Kyrgyzstan. With its stunning rock formations, magical landscapes, and rich cultural heritage, Skazka Canyon is a truly unforgettable experience. So pack your bags, put on your hiking boots, and get ready to explore this enchanting fairy tale land in the heart of Kyrgyzstan.